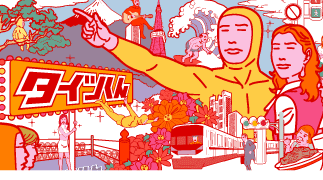 Taitsukun or "Mr. Bodysuit" in English, is a pair of trademarked Japanese cartoon characters. These two guys, brimming over with love, seem to express themselves better in body language than in words. The character in yellow tights is Pierre, who's fickle and lacks patience and the one in orange is Jonathan, who is meticulous and never loses his cool.
Japanese illustration designer, Jun Takahashi of Sui Sui, Ltd., does all the artwork while Hiroyuki Matsuoka, the president of the company, writes all the catch phrases for the drawings. In 2002, the Taitsukun characters made their debut in Japan. So far, about 500 Reiko Cards ("strictly enforcing the rules" cards) have been published and are the flagship product of the company.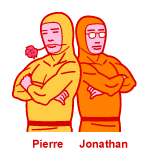 At present, Taitsukun has a series of articles running in 3 major Japanese magazines, Nikkei Business Associe, Weekly SPA!, and FRaU. The articles are intellectual with a slightly erotic sense of humor, accompanied by Taitsukun illustrations.